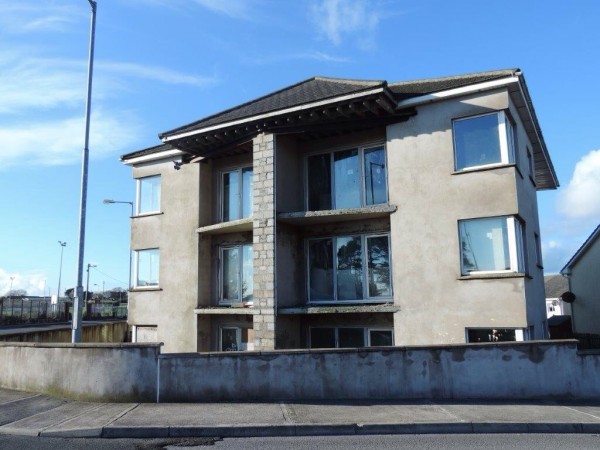 On Parklands Estate in Youghal a block of apartments and 23 housing units lay derelict in a spectacular example of waste and recklessness.
The Developer Northern Ireland construction company O'Neil brothers went into liquidation in November 2011 with the loss of 24 jobs. It's understood the developer bond is held by the First Thrust Bank of Northern Ireland.
According to a County council source "where a receiver is appointed to a development it's in that estates best interests. The receiver has to honour the original bond, it would therefore be in their best interests to bring the Estate to an acceptable standard in order to recoup its losses."
It's understood a snag list has been carried out in the last 12 months, many of the outstanding works are believed to be easily rectified.
At Monday's East Cork Municipal meeting Councillor Mary Linehan-Foley told the sitting the apartment block facing the GAA and the Holy Family church are pigeon houses. "There are pigeons flying in, flying out nothing else inside of them. The kids and anti social behaviour have all the windows broken, it's dilapidated. We did give the developer time when we wrote to them under Youghal town council "she said.
Municipal Executive Clerk Joe McCarthy told the councillor "the apartment block could be dealt with under the derelict sights but this is a planning matter that needs to be addressed to the planning department of County Hall in the context of taking it in charge. Is the East Cork municipal district to jump in and start going down the track of dealing with it as a derelict sight? Should we even be discussing it here?"
Councillor Linehan-Foley responded "I have to bring it up somewhere. If I was to bring it up in County Hall they would tell me bring it up here, so here we are again where do we go?"
Fine Gael councillor Michael Hegarty added "I think it's the appropriate forum to bring it up in. We are either fit for purpose or we are not. Mr McCarthy you are being disruptive in this whole process of the Municipal district. We are the members, are you going to decide what happens here and if we propose something it taken."
Councillor Linehan-Foley went on to say "we definitely won't be taking anything in charge because it's a derelict sights issue because there is no way on this earth the snag list will fill or will complete. This is a building 5 stories high that should never have been there in the first place overlooking a beautiful area by the Holy Family Church and the GAA pitch where the pigeons are living. The pigeons are flying in doing what they do best procreating and flying back out. The place is full of pigeons. It is a disgrace up there and to be honest with you it's not fit for purpose because they didn't have the money to put into it, because if they did it would have been completed long ago and they haven't. the best thing is knock it and have it as a green area. Because the houses are beautiful around it."
Cork County Council are to view the sight and decide a course of action in the coming weeks.