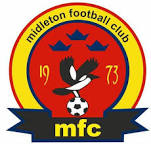 https://www.gofundme.com/f/eur5-for-5k?utm_source=customer&utm_medium=copy_link&utm_campaign=m_pd+share-sheet
MIDLETON FC 5KM FUNDRAISER
Supporting  Meals on Wheels and Midleton Hospital
"They're doing the hard yards, now its our turn!"
Players from both the club's Senior and Junior teams are running a 5km each (within the 2km radius of course) to raise funds for Meals on Wheels and Midleton Community Hospital.
James McCarthy, Club Captain, will kick things off by doing the run and donating to the GoFundMe page. He will then nominate 2 more memebrs from the squad to get out and do their run and donation! this will follow on until every memebr of both squads has completed the task. 
All donations willl be made via the GoFundMe link provided on the various Midleton FC social media pages. Keep an eye out for videos and pictures of their progress throughout the coming days as they do their bit to help the frontline workers in the community. 
Feel free to donate or complete the 5km challenge by Walking/running/cycling and send in some of your snaps/videos of yere own.
https://www.gofundme.com/f/eur5-for-5k?utm_source=customer&utm_medium=copy_link&utm_campaign=m_pd+share-sheet