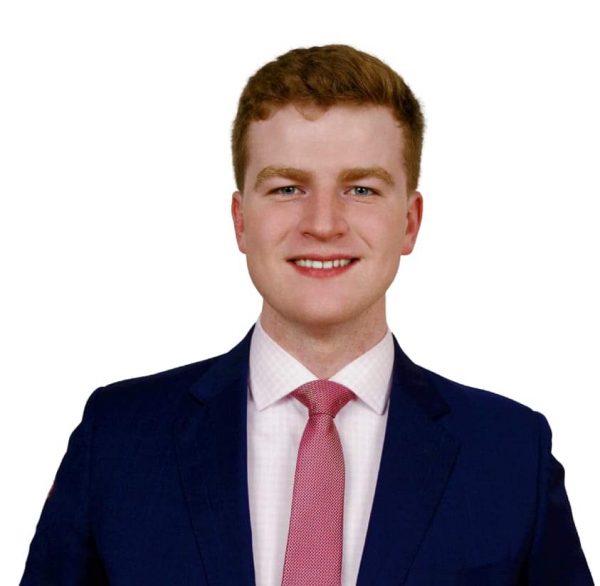 Ireland's youngest TD, James O'Connor has opened up about what it's like being the new baby of Leinster house.
Entering Dail Eireann at just 22 has been a whirlwind for the Cork East deputy who went from Trinity College to Cllr and onto being a TD in a matter of months.
Coming from a family of observers of politics but never directly involved, young O'Connor is seen as an outlier in the family, with both of his sibling's pharmacists.
He blames his grandfather for his passion for public life.
"My grandfather Tommy O'Connor was very interested in politics and I used to spend a lot of time at my grandparents house, they lived across the road from where we are at home."
Last May James was elected onto Cork County Council, representing the Midleton and Youghal area, gaining the fourth seat in the seven seater district.
Eight months on O'Connor who was in primary school the last time Fianna Fail won an election, unseated his running mate Kevin O'Keeffe.
The Youghal native who spent three years working as an intern in Leinster House before being elected to the 33rd Dail last month, says drastic action is needed within the political system.
"We need far greater efficiency in public spending there are lot of local authorities that are not efficient with public money."
"Across the board we need a total review from top to bottom on how local government works in Ireland. It's not functioning right. It's not functioning properly.
If it was improved upon it would be for the good of people all over East Cork" he said.
Deputy O'Connor is the latest member of a generation who has grown up in an era of cuts to public services after the crash of 2007 -8 as well as an accelerating climate crisis.
He says his experience as a Cllr has shown him Its exceptionally difficult to get council officials to "actually get done, what you need done in terms of community projects and road repairs which should be a minor issue."
"I've come away from being a Municipal Cllr for east Cork realising there are serious inefficiencies and a lot of waste of public money, but it's a good thing I'm aware of that and go away and come up with solutions to improve that" he said.
His three year internship at Dail Eireann O'Connor says were "invaluable."
"I learned a lot about how the system works in how you can get things over the line done. You can observe people who have been there a long time and achieved very little and you can also see the ones who were there an awful long time and achieve an awful lot. You have to ask yourself what are they doing right and how can I replicate that in my constituency."
"It's a problem in politics you have too many people there who are there too long – my attitude is you should leave politics as soon as you can no longer affect change give other people a chance as well."
Following a five week bedding in period before new TDs are up and running O'Connor has hit the ground running working to bring Irish national home amid the Covid 19 outbreak.
Speaking to the Fianna Fail Deputy on Monday 16 March he had spent the previous night on repatriating Irish people stuck in Central America and the Philippines.
"There are people trapped all over the world who want to get home and our focus must be getting them back."
The benefit of a TD he says is that you have greater access to officials in government departments that wouldn't otherwise listen to you if you were a Cllr. Its very important to utilise you're time when you are in that position.