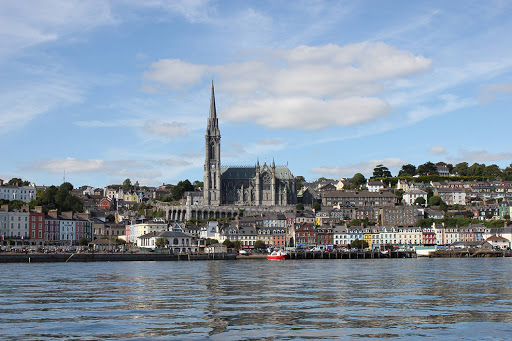 A small commemorative service for those who drowned on board the Titanic took place in Cobh this morning, marking 108 years since it sank into the North Atlantic.

Due to covid 19 restrictions on gatherings a wreath was laid at the town's Titanic Memorial, at 9:05am by a lone member of Cobh Tourism.
Ursula Duffy representing the tourist body paid her respects to the passengers who boarded the ill-fated ship at Cobh, Titanic's last port of call and to all those who lost their lives or suffeing from the Corona virus pandemic.
The Titanic cenotaph is located on Pearse Square, close to the iconic heart break pier, where 123 who boarded in Cobh departed from.

79 of those passengers would later perish in the freezing waters of the North Atlantic.
Traditionally the Commodore Male Voice Choir would attend to perform the hymn 'Nearer My God to Thee'.
The hymn is the alleged last song the band on RMS Titanic played before the ship sank.
Instead a poem entitled the Voyage by local poet Frank O'Brien was recited.

After a decades long search, the wreckage of Titanic was found lying upright in two sections almost 400 miles south off Newfoundland in 1985.

Successive dives on the vessel both manned and unmanned have found no evidence of a long gash thought to have been ripped in the ship's hull by an iceberg.
It's believed a series of thin tears as well as a separation of joints in the ship's hull led to its demise.
You can view this mornings proceedings by clicking both links here:
https://m.facebook.com/story.php?story_fbid=4285172888175576&id=971676762858555
https://m.facebook.com/story.php?story_fbid=4285221344837397&id=971676762858555