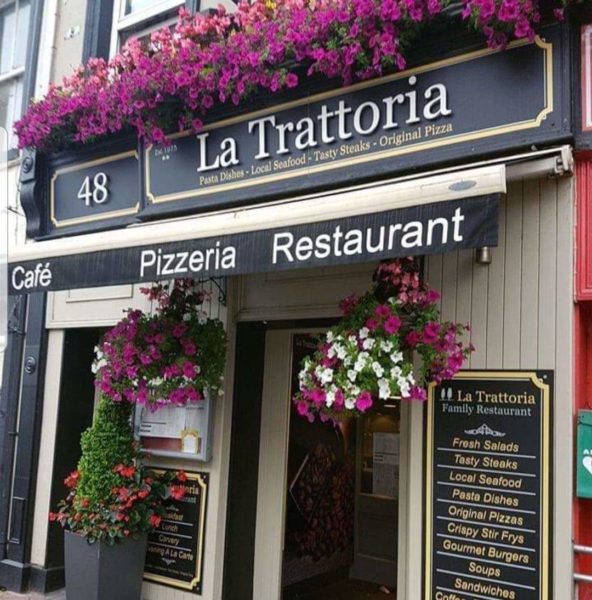 Pasquale and Lynda Corigilano from La Trattoria are to continue to give their free time to feed the areas elderly and vulnerable.
The couple have dished out  hundreds of free meals at their Italian restaurant in Midleton in recent days.
Every Saturday and Wednesday since 28 March a free roast dinner is available to those in need.
The big hearted duo say they will continue their humanitarian project from their Midleton Main Street eatery, as long as they can.
"The roasts started as just a once off but due to the massive response we have received we have decided to keep it going a little bit longer" they said.
Chef Pasquale told the Frontpage news "in these tough times we all need to stand together, we hope this is one of many good deeds been done all over east Cork by fantastic people."
Today ( saturday 4 April) alone the popular restaurant served 252 meals.
He said the restaurant has had a bit of support in producing the meals and thanked all that have helped out.
"There are some great local food suppliers and a fantastic kitchen and restaurant staff, also delivery drivers that are doing the very best service"
Said Pasquale.
Donations of produce from East Ferry Free range chickens, Frank Murphy Butchers, Roche's Point Farm shop, Joe Hartnett Farm and Martha from Walsh's pharmacy, along with La Trattoria's own produce has meant the restaurant can continue to offer a choice of dinners on their dedicated days.
Lynda Corigilano says "it has given us so much satisfaction and happiness to see what one meal can do for someone especially in these challenging times."
"The response and positivity has been amazing and we are overwhelmed with the feedback" she added.
A team of volunteers drivers help deliver meals to those cocooning or afraid to leave home, making this a true community effort.
Hot meals will continue for the next fortnight on the following dates Wednesday 8th, Saturday 11th, Wednesday 15th and Saturday 18th April from the restaurant at 48 Main Street Midleton between 11:00am and 12:00 noon.
There is a choice of either chicken or roast beef available.