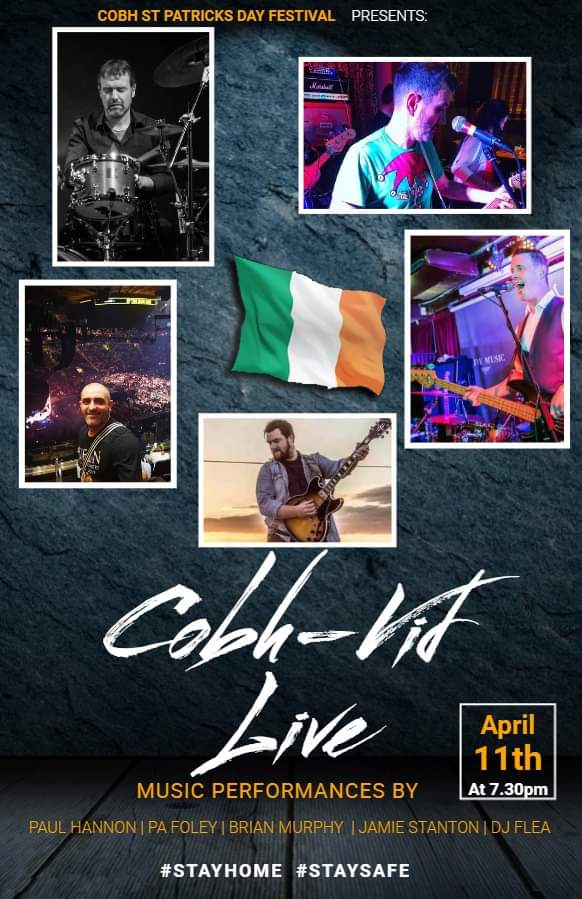 Well known local musicians Paul Hannon, Pa Foley, Brian Murphy and Jamie Stanton along with DJ Flea will open their doors — literally — as they perform from their homes for a benefit concert to raise money for Cobh Hospital this weekend. The virtual gig will be streamed live on the Cobh St Patrick's Day Parade 2020 facebook page from 7:30pm on Saturday 11 April , with an accompanying link to donate to the community supported hospital. This Saturday's event — will also honor the health professionals at the care home doing everything possible to keep the elderly safe during the Novel Corona Virus Covid19 pandemic. Cobh St Patrick's Day Committee chairman Samuel Conneely says "music will be carried accross all genre's. It will go from rock to pop and a DJ playing the best of 80s and 90s who will play requests also." It's expected the charity event will take place weekly during the health emergency. The committee say the money will go directly towards Cobh Hospital to do with as they see fit. "But we will be pressing for it to be spent on battling Covid 19 in the hospital. Extra sanitizer, masks, gloves for residents and staff, new signage for the entrances, hallways and rooms" said Mr Conneely. Visits to the infirmary were limited last month to help stop the spread of the virus, leaving residents isolated. The move came as health experts warned that older people are more likely to have critical symptoms or die from the illness.
Erica Mullvihill Nurse Manager at Cobh Hospital has welcomed the initiative.
Speaking to the frontpagenews.ie she said in the current crisis, the staff of cobh hospital are doing everything they can to keep the residents safe.
"It's so important that we have the help and engagement of our local community to help us to continue to do this" said the senior nurse.
Praising her staff she said they are "exceptional human beings giving their all in the efforts to save and protect others."
The gig can be accessed by clicking on the following link: