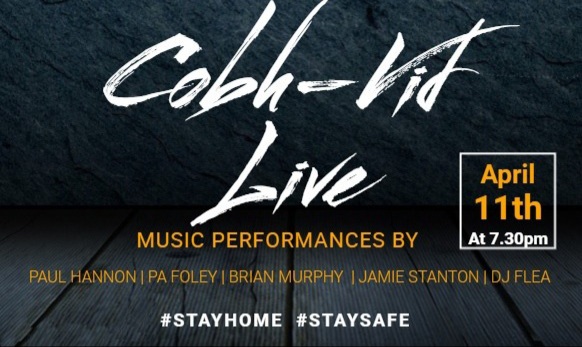 You can still support the Cobh Hospital fundraiser by following this link to donate.
https://www.gofundme.com/f/cobh-hospital-fundraiser
With social distancing the new norm, a number of local musicians and DJ took to the internet yesterday, to stage a live video concert for charity.
Popular Cobh musicians Paul Hannon, Pa Foley, Brian Murphy and Jamie Stanton along with DJ Flea have raised over €1,500 for Cobh hospital.
The money will go directly to Cobh Hospital to help in the purchase of personal protection gear for staff battling Covid 19 in the care home.
Further concerts will take place during the health emergency to boost the residents spirits and honour the health professionals at the care home doing everything possible to keep the elderly safe during the pandemic.

The virtual gig was streamed live on the Cobh St Patrick's Day Parade 2020 facebook page from 7:30pm last evening, with an accompanying link to donate to the community supported hospital.
https://www.gofundme.com/f/cobh-hospital-fundraiser
Every music genre was covered from rock to pop with DJ Flwa playing the best of 80s and 90s while also taking requests.
In total €1600 was raised in last nights virtual gig.
There is still time to donate through the following link:
https://www.gofundme.com/f/cobh-hospital-fundraiser
Visits to the Cobh Hospital were limited last month to help stop the spread of the covid 19 virus, leaving residents isolated. The move was made as health experts warned that older people are more likely to have critical symptoms or die from the illness.