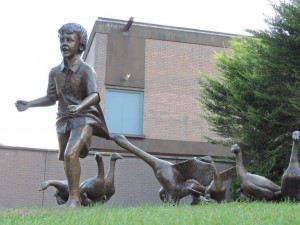 Midleton Town Council have installed the second statue of 5, which are to be placed at strategic positions around the town.
The latest sculpture to join the €73,298 Nellie Cashman is a bronze structure located at the Gooses Acre. The structure costing €60,000 is designed to reflect the traditional use of the area by local people for grazing their geese.
There were mixed views in Midleton regarding the latest instalment some were happy with the statue with others saying it's quite a lot of money to be spent on art when the money could be used in other areas.
Well known East Cork Resident Barbara A. Bruen told the Frontpagenews.ie that "I think it is very good, however they are doing too many. They need to stop. All we needed was one nothing else by the Gooses acre. " Margaret Daly "It's very nice. I just hope it won't be vandalised."
Sabrina Benner "It's cool my son loves it but the money spent on it could have been used elsewhere like the playground by the Gaelscoil. Holes everywhere." Eva Geasley "It looks brilliant."
3 more structures have been commissioned and will appear throughout the town shortly.
The Fenian man is to represent the Rebellion of 1798. Many believe this to be the genesis of Irish Independence, the cost has still to be confirmed.
The Fair Green a concrete pillar finished with a granite face 3 meters high will have 5 oversized sheep situated around it, it will cost in the region of €100,000
An additional €100,000 will be spent on a Choctaw Gift of Aid during the Famine will be placed at Bailick Park a bowl structure made of eagle wings 5 to 6 meters in height entitled kindred spirits.
The sculptures were chosen by an expert panel, from applications made to the Council in response to a competition run on e-tenders (The European Tender Web Site).
The sculptures which were commissioned to help the promotion of history, heritage and tourism in the town will cost in excess of €333,000.
In their 2013 budget Midleton Town Council approved a number of capital projects for the period 2013 – 2015. Capital projects are funded from central government grants of up to 70% – 80% under planning legislation with the remainder made up of development contributions.