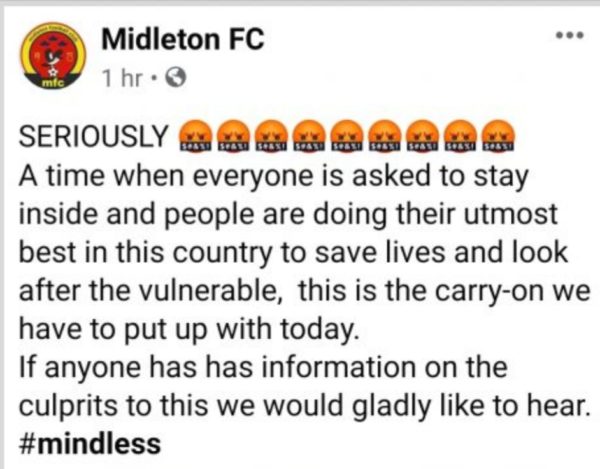 Midleton FC is asking for witnesses to come forward after their ground was defaced by mindless gurriers.
Containers used by the club were sprayed with lewd slogans over night leading to outrage by members of the public.
Labelling the attack on its premises as "mindless" the club have asked anyone with information leading to the apprehension of those involved to come forward.
In a social media post in the past hour the club said they were utterly shocked at what they have witnessed.
The club has over 700 members that include junior teams from under-6s to under-14s – that use the site – and 16 to 18-year-olds as well as senior teams.
"SERIOUSLY 🤬🤬🤬🤬🤬🤬🤬🤬🤬
A time when everyone is asked to stay inside and people are doing their utmost best in this country to save lives and look after the vulnerable, this is the carry-on we have to put up with today.
If anyone has has information on the culprits to this we would gladly like to hear. #mindless" they said.
Anyone with information should contact Midleton Gardai or any  committee member.