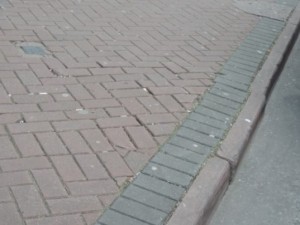 Pavement deterioration due to pedestrian use and weather conditions have caused some of the footpaths in the Main Street of the Midleton area to recede; causing cracks and holes to appear in the pavements.
Funding was ring fenced  in January 2014 to reconstruct the pavements where the structure has significantly deteriorated.
On the 11 March this year architect drawings were approved on the basis that the proposed disabled driver parking spaces on the western side of the Main Street would be relocated to the northern side of the Coach Horse/Finins Lane.
According to a spokesperson for the Midleton Town Council this funding has now reverted back to Cork County Council.
As of close of business on Friday 30 May all Government and Administration for the Midleton area will be run by Cork County Council.
The spokesperson went onto say that they are currently awaiting a revised drawing from the Town Architect. Once this drawing is received the job will be put to tender.
When asked if there was a possibility the funding could now be redirected to other areas in the county the spokesperson advised pressure would be maintained for the funds to be used for the purpose they were assigned.