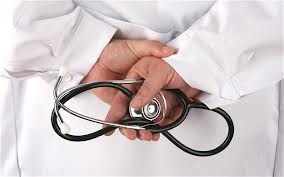 Later this month the Government hopes to roll out its scheme of free GP care for the under 6.
If this goes ahead it will represent the first phase in the provision of free GP care for the entire population.
Negotiations have commenced, after an 8year gap, with the Irish Medical Organisation (IMO) and the Department of Health in an effort to deliver a sustainable high quality GP service.
According to Glanmire based Dr Diarmuid Quinlan he believes that General Practice is the solution to our current health care problems if used in tandem with the Primary Care Service.
Dr. Quinlan says that "the free GP contract for the under 6 in its current state is seriously defective."
According to a study carried out by the Irish Medical Journal it found that children that don't have a medical card visit their family doctor just twice a year. Those children that have medical cards on average will visit their family GP five times a year. The workload implications are enormous, and sick patients may not have same day access to their GP, possibly forcing them elsewhere.
A London based Irish doctor Dr. John Rochford told the FrontPageNews.ie that it is his experience that Free GP care is massively abused in the UK " There should be a nominal charge of €10 and the rest is subsidised properly by the government. More should be dealt with in primary care and encouraged."   Dr. Rochford added "It's important to understand why it costs €60 for a consultation . That money is subsidising the lack of money coming from the medical card patients I.e the government. As a small business the practice has to charge more to offset the loss from the other. If the government funded services well in the first place prices would come down, therefore the government have you over a barrel. In the UK it's not uncommon to have a 2 to 3 week wait to see your GP. Another example of poor funding"
Currently a GP in England will see on average 300 patients a week .
Dr. Quinlan told frontpagenews.ie that he believes that a patient centred service like that of the proposed Cyprus healthcare system would suit the Irish service. "The universal introduction of clinical guidelines in all levels of care and particularly in primary care can be an important evidence-based tool to promote ´´efficiency´´ savings hence without diminishing the quality of care."
I spoke to some of my social media followers to get feedback and taught on this matter.
This is what Whitegate resident Paul Buchanan had to say " Everyone should get at least 4 free visits a year to the GP – everyone! I get ill and don't go because it costs money – then I get sicker and it costs the tax payer money (of which I'm one). Also think people who are "fit" (ie pass certain medical tests to show they are looking after themselves) should get tax breaks as in the long run they will cost less to the state and it might be an incentive for people to get fit and stay fit – combat the obesity Rise!"
Lorraine Warren (Ex of Cork now residing in the UK) said "When we were living there I'd often (very guiltily) left it longer than I possibly should to take George to the GP as kids catch everything I just wanted to rule out lesser illnesses before forking out 35 euro. The NHS is not without it's flaws but I'm very proud of it and how it helps us over here."