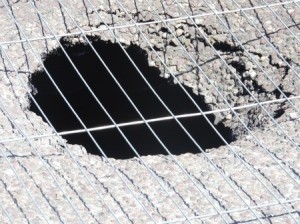 Repair work is to be carried out on two sink holes that have appeared in the Rocky Road, Midleton.
One sinkhole appeared around 4:30pm on Monday 16 June estimated by one official to be around 8ft by 10ft in diameter. A second sinkhole that was filled in about four years ago has also started to reappear close by.
Local resident Ned Reck told frontpagenews.ie that residents in his area are not strangers to sinkholes. Ned has personally filled in over 13 sinkholes in his 41 years living on the street.
According to Senior Executive Engineer for roads Cork County Council David Clarke "sink holes are a natural occurring phenomenon in the Midleton / Carrigtwohill areas. Within the last 3 years about 5 sink holes in the Midleton Municipality have been reported." Mr Clarke went on to explain
"a sinkhole or swallow hole is a depression or hole in the ground caused by some form of collapse of the surface layer. Some are caused by karst processes—for example, the chemical dissolution of carbonate rocks or suffosion processes" .
The Town Engineer advised that "it's not unknown to use 20 tons of rock in the repair of one of these sink holes. Estimated cost of repair is about €5,000. The collapse could have been caused by a break in water mains or by the sudden drop in the natural water table. It is hard to know the exact cause until the road surface has been removed and repair works commence. "