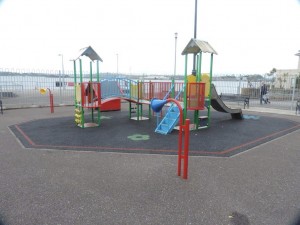 A number of Cobh residents have recently been very vocal over the state of the towns playgrounds. Stating that they were promised a €65,000 extension to the Whitepoint 5foot-way playground.
Sinn Fein Councillor Kieran Mccarthy recently received the €65,000 grant from the Lower Harbour Energy Group, an organisation made up of healthcare manufacturing companies located in the Cork Harbour area ( DePuy Synthes, GSK, Janssen Biologics and Novartis) through their community gain fund which supports locally-based, sustainable energy projects in the Cork Harbour area. In order to support this community based activity, the four companies placed €180,000 into a dedicated fund to support local Corporate Social Responsibility (CSR) initiatives.
It is understood that these monies will be used towards the building of a new public toilet operated by recycled rain water, a new set aside area with green energy glow gym inclusive of outdoor gym equipment and a solar lighting system allowing use of the equipment late into the evening.
On the 20 May a few days before the local elections one of councillor McCarthys campaign team posted a photograph of the councillor standing in front of the whitepoint playground with the caption "Cllr Kieran McCarthy getting ready before Cobh playground gets it's €65,000 upgrade."
On the 21 May councillor McCarthy posted under that photograph "All this reverts over and becomes the property of the new municipal county council on June 1st, but the plans and money are now there so we should see action on it fairly soon."
One local who did not wish to be named said they were "disappointed the 5foot-way playground was not getting the much needed play equipment. They added that they felt the playground located at the 5foot-way should be located at a central point in the town."
Tina Kelly from Inis Alainn, a mother of two and a child minder told the Front page news"
I just think Councillor McCarthy misled people to get the votes. He told us of his Initial plans for the €65,000 in March telling us there was going to be an outdoor gym built with the grant money. Mine and everybody's issue is he misled people by using the headline 'Extension and upgrade to main playground in Whitepoint'." Miss Kelly added" Playgrounds have an important role in a child's life, it encourages them to use their imagination, develops social skills like sharing and turn taking. They also help encourage a Childs linguistic and emotional development. They also play a part in their physical activity in this era of increasing technological use and sedentary life style. "
Speaking to the Front page news Councillor McCarthy said" at no stage did I mislead the people of Cobh. I think there is some mischiefness going on here. A stipulation of the €65,000 grant was that every part of the project has to have an environmental aspect to it. I am fully aware that Cobh is way behind in other areas like Carrigtwohill and Glounthane when it comes to playgrounds. I would love to see Cobh's playgrounds extended and also a Skate park at the 5 foot-way. In order to obtain this we need to seek additional funding. Both myself, Donal Og Cusack (representative for the Lower Harbour Energy Group) and the town engineer Robert O'Sullivan walked the site. We couldn't find any way to provide additional play furniture that had an environmental facet."
According to miss Kelly this is not the case " in just one day I discovered a lot of companies that specialise in outdoor playground equipment and have spoken to a specific company called Play Dales who build and produce playgrounds and equipment with the focus being on children and health and fitness. They use materials such as stainless steel or timber from sustainable forests."
Cobh Town Engineer Robert O' Sullivan said " Councillor McCarthy had approached me to advise me that there was a possibility of getting funds from the Lower Harbour Energy Group because of the windmills that were being erected in the harbour. There has always been a call to extend the playground at the 5foot-way. Extra play furniture was not considered for this project as every aspect to the project had to reflect creative power through wind or other types of energy harvesting. We couldn't find an established company that provided what was required. We discussed this with Donal Og Cusack and decided as a group to go with the current proposal. Using equipment made of stainless steel or timber from sustainable forests would be eco-friendly and would not be covered by the grant application. "
Right now only 3-4-year-olds are able to use the towns playground in the Promenade they have limited use of the play furniture at the 5-foot way. The climbing frame in the promenade and slide at both locations are not big enough for children over the age of 4 years. There's no swing in either of the locations . The outdoor area in the Promenade is not secure leaving children to easily wander off. When the weather is good parents have no choice but to travel to other playgrounds out of town like Glounthaune and Carrigtwohill . In the 2011 census in the Cobh area 1,139 children were aged between 0-4 years.