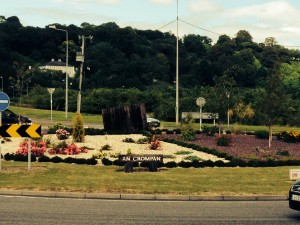 At a recent borough meeting Councillor Padraig O'sullivan requested that the authority prohibits the erection of illegal signage on the roundabout at Little Island.
Many businesses displaying signs directing customers to their premises are erected on a daily basis he said.      "Little Island Community Association, Little Island Tidy Towns and the Little Island Industrial Development Company (LIIDC) raised €12,000 in funds to upgrade the Crompan Roundabout at the entrance to the Island. Literally its being defaced every weekend with signage from furniture outlets and food outlets."
This is the second year Little Island has entered the Tidy Towns competition. Crystal Stansfeld of the Little Island Tidy Towns  told the Frontpagenews.ie that the group have previously entered various litter challenges and have always placed strongly.
Crystal added " The problem is that there is poor signage for the business estates around Little Island. There's a sign on the flyover and that's it. Signs need to be placed on street corners directing people to the individual business parks. I don't blame people for erecting signs as they need to make a living and the possibility of a fine is worth taking the chance. "
Recently the group of 13 members completed a large landscaping project on the Island cross towards Cork Golf Club which was funded directly by the Tidy Towns group at a cost of €2,500. The works were carried out by the Tidy Towns  assisted by the groups three Tus workers over an eight day period with a lot of help from Hillside Nurseries.
Many businesses including the Radisson Hotel Group and DB Schenker sponsor Tidy Town projects throughout the Island.
Crystal Stansfeld said "we are lucky to have the local businesses on our side.   If we could only get the Council on board as well and put proper signage we could stop the litter warden wasting a lot of his time collecting illegal signs and prosecuting the culprits."
Senior Engineer for Cobh Municipality Gerard O'Hora told the Cobh Municipality meeting on Tuesday the 8 July  that "there is a mechanism in place at present for signage. You have to apply to Cork County Council to erect signs.  If there are unauthorised signs  our area staff do go out and remove  them."
He added "we do get applications from football clubs and community groups for events that they would be holding.  Under those circumstances we do facilitate the erection of temporary signs.  Generally for non-domestic retailers we do remove them. The frequency they are going up at, at the moment we do not have the time to remove them."
A the time of going to print, we were unable to speak to a spokesperson for the Cobh Municipality.