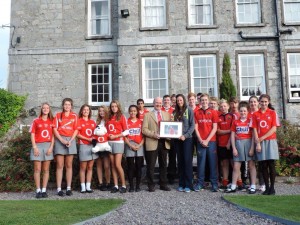 Midleton College was a sea of red and white on Tuesday (16 September) as students welcomed back their All Ireland Camogie champion. Orla Cotter a teacher of PE and Irish at the school was in shock when acting Principal Bud Morrisey made a presentation of a framed photo to the sports star.
The big question we all want to know is, what was said at half time last Sunday (14 September) when the Cork women were down 5 points is a closely guarded secret. The East Cork Star told the Frontpagenews.ie "what was said will never come out, however, the first 20 minutes are usually the toughest. Usually things settle down after that."
All eyes are now set firmly on the Sunday 28 September for hopes of the double. Well done to Orla and all the team.