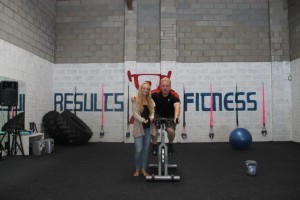 Midleton resident Mark O'Sullivan is a man on a mission. Known locally as Fanta he plans to raise over €10,000 for 2 local causes.
Later this year Mark will wear a full fireman outfit weighing over 35 lbs (overalls, steel -capped boots, and helmet) as he cycles for 4 hours non-stop to raise funds for the Dunlea rebuilding project and Aimee Foleys treatment fund.
Fire broke out at the Dunlea's home on the New Cork road around 3:30am on Saturday 5 July. 22 year old Stacey Dunlea passed away, in the house fire, 3 other people were taken to hospital for smoke inhalation but were later released. Mark hopes to present the family with €5,000 to help towards the rebuilding of their home.
Midleton native Aimee Foyle suffers from a rare genetic disorder Ehlers-Danlos syndrome (EDS). The rare genetic condition causes collagen deficiency and means Aimee is at daily risk of internal organ and artery failure.
Aimee travels to London regularly for treatment that she would not be able to receive here in Ireland. €5,000 would cover her costs of treatment and accommodation for over 6 months.
Marks spinathon will take place in Market Green on the 11 October anyone wishing to donate can do so through Marks facebook page 'spinathon challenge for Aimee Foley and the Dunlea Family fund. '
Sponsorship cards will also be placed in businesses throughout Midleton shortly.