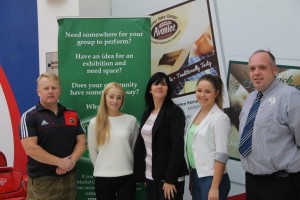 Next month the man known locally as Fanta will don a full fireman suit weighing over 35 lbs (overalls, steel toe capped boots and helmet.) as he cycles 4 hours nonstop to raise funds for the Dunlea rebuilding project and Aimee Foleys treatment fund.
Mark told the East Cork Journal that he is really looking forward to the charity event that will take place in Market Green Shopping Centre on the 11 October. "I am really blown away with the support I am getting from the community. Aine Power of Results Fitness is providing the spinning bike for the event along with the training. Cillian Riley is giving his DJ services for free on the day. Billie Jean East Cork Stage School will help me keep motivated and keep the crowd entertained. I also need to thank both the management of Market Green Shopping Centre, Ladbrookes and Victor McCaffery from Print profile who provided the posters and sponsorship cards for free" he said.
Sponsorship cards can be found in businesses throughout Midleton or by donating through the events facebook page Spinathon Challenge for Aimee Foley & The Dunlea Family.