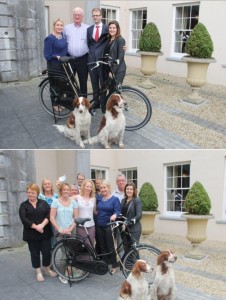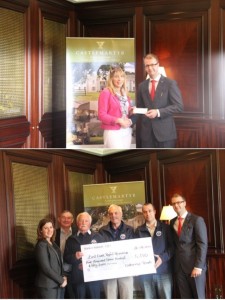 The recent John Saul Picnic at Castlemartyr Hotel raised €8,500 for local organisations.
Castlemartyr GAA, Castlemartyr Community Council, Mogeely vintage club, Dungourney playground and East Cork Rapid Response all benefited from the not for profit day which took place on the grounds of the hotel on August 4.
Brenda Murphy Director of sales & marketing at Castlemartyr Resort told the Frontpagenews.ie that numbers attending the event were almost doubled on last year. In 2013 the hotel recorded between 3,000 and 4,000 attended the event. This year that figure is estimated at over 6,000.
At a recent presentation in the hotel Castlemartyr GAA welcomed a cheque for €500, Mogeely vintage club €250, Castlemartyr Community Council €500 Dungourney Playground €1,500 with East Cork Rapid Response were delighted to receive a cheque of €5,750.