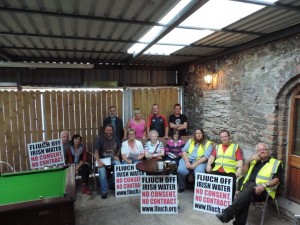 A meeting to gauge interest among the people of Killeagh to resist the installation of water meters failed to attract significant attention, with only 23 attending a public meeting in Kennedy's Bar, killeagh recently.
Many of those attending the event were members of fliuch.org drafted in to host the meeting.
The gathering was moderated by Rob Galligan (a supporter) and included Noel Dolan and Noreen Murphy from Fliuch and John Daly from East Cork against water meters and forced utility charges.
Councillors Mary Linehan-Foley and Pat Buckley were also in attendance.
The anti-austerity group claim that their support is growing right across East Cork. Recently 5 families objected to the installation of meters in the Castleredmond / Rosary Place area of Midleton an estate with over 100 houses.
Last month Noel Dolan creator of the Fliuch.org website and the person behind the Fliuch Off Facebook and Twitter accounts distanced himself from the Ballyphehane/South Parish Says No group (BSPSN) when violence broke out in Owenabue Carrigaline. His organisation were supporting BSPSN in manning a blockade preventing the installation of water meters, when some residents expressed an interest in having a meter installed a fracas ensued.
Last Saturday one representative of BSPSN was with members of Fliuch.org at Kennedys Pub.
Mr Dolan Told the meeting "Irish Water is a registered private for profit company. We already pay for our water through general taxation. 1977 PAYE & VAT were increased. 1983 We had the introduction of local authority service charges. 1996 5% was added to our motor tax. That's quadruple tax for us now if we pay again." During the meeting Mr Dolan gave advice on how to remove the meters safely. Advising those in attendance to post the units back to Irish Water by registered post.
Sinn Fein councillor Pat Buckley addressed the meeting at the end saying" what worries me is your data, your PPS numbers (Personal Public Service Number). By 2020 they reckon if they can snag everyone in the European Union it will be worth over a trillion euro in data alone. I am not racist in any way. In 2016 Irish Water could possibly be broken up. They have to be privatised as you cannot have a monopoly. You could be speaking with someone in Bangladesh who has your data and they can sell it."
Councillor Buckley went onto say Irish water refuse to send a representative to meetings of Cork County Council. "We work for you. The Council work for us, and Irish Water work for themselves." he said.