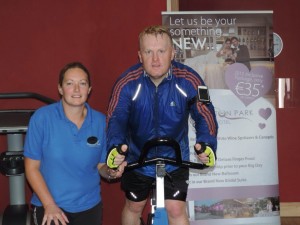 It's been a hard day at the gym for Mark O' Sullivan (Fanta) as he trains for his challenge on the 11 October in Market Green Shopping Centre, Midleton.
We met up with the Ballinacurra man during one of his training sessions at the Midleton Park Hotel. Mark says despite him being ahead of his training the fire suit is weakening his energy.
"I am training 6 days a week. I wear the fire suit for two of those training sessions. When I am wearing the suit I can only manage 1 hour, without the suit my training sessions last 2 hours."
Mark says he's really looking forward to the challenge in Market Green where he hopes to raise money for Aimee Foleys treatment fund.
Anyone wishing to support Fanta and his fundraising efforts should look out for sponsorship cards in stores throughout Midleton.