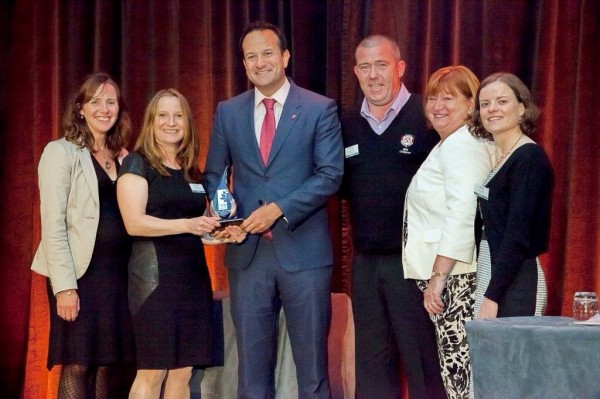 Midleton GAA were announced as joint winners of the Health Manager Ireland national leadership Awards. The award ceremony that took place in the Hilton Burlington saw 7 shortlisted programmes compete for the All Ireland title.
Last year the Health Service Executive (HSE) and the GAA joined forces to help boost access to comprehensive primary health care through their healthy club programme.
Midleton GAA and St. Finbars in Togher took part in the programme run as part of the GAA healthy club initiative.
The 6 week programme was designed to help people protect themselves by pointing out the signs and symptoms of stress. The Health Management Institute of Ireland launched an award, the HMI Leaders Award, earlier this year.
This newly inaugurated award recognises the outstanding achievements of individuals and teams that exemplify the innovation, creativity and commitment of people working in the Irish health services.
Jennifer Hayes Principal psychology manager with the HSE told the East Cork Journal "I knew we had a chance, but whether we would get it passed the line was another story. We are pinching ourselves this morning. Being acknowledged by your peers as being the best in the country is unbelievable. The best health initiative in the Country is here in Midleton. "
Gavin Power from Midleton GAA added "This award is great. A lot of hard work went into it a club level by Pierce McCarthy in Midleton and Janis Harrington in St. Finbars. A lot of credit must also go to Dr. Rosarie Crowley who delivered the course in the St. Finbars in Togher and Dr. Jennifer Hayes who ran the Midleton sessions. " Gavin added "there were a lot of impressive projects that we were up against. This award is great for the profile of both clubs. It has opened people's eyes to mental health and helped break down the stigma. "
It is expected that Cork Beats Stress programme will be rolled out across the GAA's North Cork division.