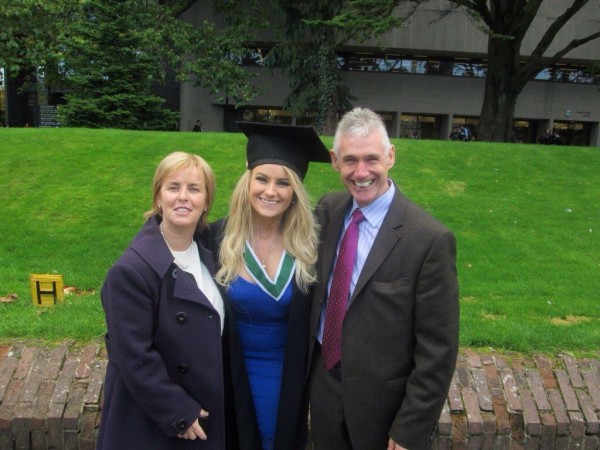 As the people of Cobh try and come to terms with the deaths of Michael and Valerie Greaney, post mortem results released earlier this week, revealed that Michael died of a single stab wound to the heart, his wife died after receiving several stab wounds.
His eldest daughter Michelle was left fighting for her life. At the time of going to print the 21-year- old, who has been in a relationship since 2012 was in a critical but stable condition at Cork University Hospital.
Midleton Gardai have confirmed that both bodies have been handed over to the family to arrange for burial. HSE officials have confirmed that a review of Mr Greaneys' treatment will now take place. The Cobh man returned home recently following 17 months in the central mental hospital.
Last year Mr Greaneys' wife Valerie had pleaded for leniency in court for her husband following an attack on a young woman.
As a result the Cobh man was required by the Court to live away from the family home in O'Neil's place and follow the directions of a consultant psychiatrist.
On the 29 October 2014, Mr Greaney made a successful application in Cork Circuit court to return to the family home, following a further assessment from a psychiatrist, who found he no longer posed a risk. The psychiatric report also stated that if he returned to the family home it would help with his mental wellbeing and family life.
The Bishop of Cloyne rev. William Crean who was deeply sadden by last week's events asked for prayers "I ask the faithful of the diocese to pray for all of those affected by these sad events. May the light of Christ, whose coming into the world we celebrate at Christmas, help to guide us through this great darkness which has fallen on the community of Cobh, and on the diocese as a whole."
Since 2000 almost 40 Irish children have died at the hands of their parents before taking their own lives.
The East Cork Journal understands that no state agencies currently investigate Murder Suicide. The Central Statistics office will not record murder suicide separately in their figures, but will opt to include them with, gangland killings, fatal stabbings and other killings.
It's widely reported that Mr. Greaney was suffering from mental trauma.
There is further speculation that there were financial strains on the relationship which put the family home in jeopardy. According to an Irish Independent report the Cobh man was involved in litigation with 3 banks which had put his home at risk of being repossessed.
Claire Cullinane of Debt Options a group who support and help those who find themselves under severe stress and pressure due to the financial crisis told the East Cork Journal "this is the perfect example of a self-employed, decent, respectable family, yet another victim of the financial chaos. The most important thing to remember is there are ways to speak to banks."
According to social media Valerie was to attend a commemoration ceremony in Cobh to mark the 100th anniversary of the sinking of Lusitania on 1 January. Organisers for this event say they have postponed the memorial as a mark of respect, a new date has yet to be decided.
A book of condolences has been opened in the Cobh Municipality building for those who wish to pay their respect.
The couples youngest daughter Sarah (16) who made the grim discovery last Sunday (28 December) on the 10 May (2014) posted on her face book page;
"To think this day last year was one of the hardest days of my life, it definitely could of been worse but it didn't feel like that at the time, I just want to say if anyone is feeling horrible and think things can't get any worse I have no problem talking, suicide should never be an option and you can always get help anywhere, People walk around this town looking like the happiest person ever when really you can't imagine how depressed they are, the difference in the person I'm talking about is unbelievable thinking back of how he was last year up to today♡ I seriously have no problem talking to anyone if they're feeling the worst so don't feel you can't talk to me, and I know this sounds so cheesy but stay strong:)"
According to a leading forensic psychologist;
Fathers who kill their children and then take their own lives are typically seen as revenge killings but can also have an altruistic quality. Fathers, or romantic partners often kill their children and wives/ lovers within the context of multiple threats. They express a propertial attitude to their wives, children and lovers along the lines of if I can't have you no one can. The murder is often an attempt to control the other that has gone too far and is thus followed by suicide. Jealousy is also a major motive.
If you're affected by any of the above issues, you can call the Samaritans in the Republic of Ireland on 116 123 or in Northern Ireland on 08457 90 90 90