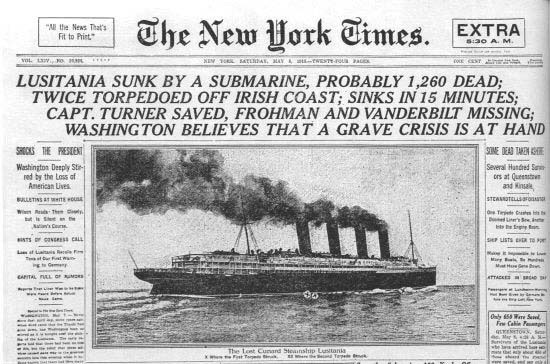 There will be extensive commemoration of the centenary of the sinking of the Lusitania throughout Cork next year.
On the 1 January 2015 the bells of St. Colman's Cathedral in Cobh will ring out marking the beginning of 5 months of commemorative events all over county Cork.
The carillonneur of St. Colman's Cathedral Adrian Gebruers will present a recital on the 49 bells of the cathedral commencing at 4 pm. At approximately 4.30 pm Cobh Confraternity Band will perform in the Promenade in Cobh Town Centre, this will be followed by a short ceremony where the victims of the wartime tragedy will be remembered.
The sinking of the Cunard ocean liner RMS Lusitania occurred on 7 May 1915 during the First World War, as Germany waged submarine warfare against Britain. The ship was identified and torpedoed by the German U-boat U-20 and sank in 18 minutes. The vessel went down 11 miles (18 km) off the Old Head of Kinsale, killing 1,198 and leaving 761 survivors. The sinking turned public opinion in many countries against Germany & contributed to the American entry into World War I.
For weeks after the tragedy bodies washed up on Cobh's shores, many were buried in a mass grave in the old church cemetery.
Members of the public are encouraged to attend the remembrance ceremony in the promenade.