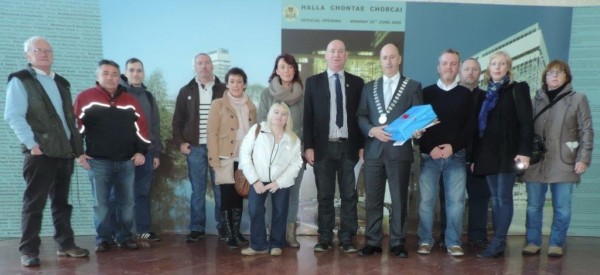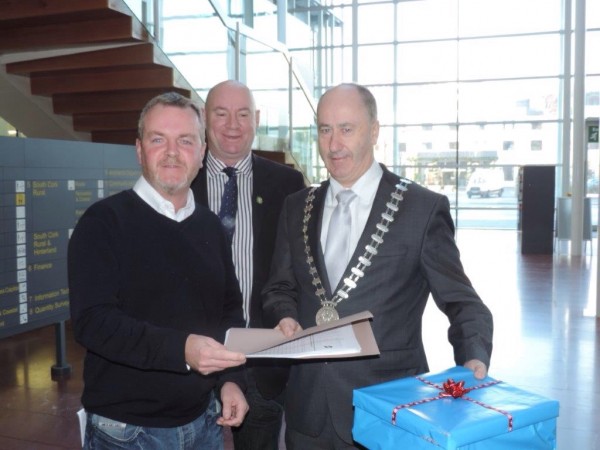 A decision by Cork County Mayor Alan Coleman to back the Anti Water movement has been described as very significant.
The alderman made his views known last Monday (8 December) as representatives of the Cobh says no to water charges campaign and Sinn Fein handed him a 2,500 signature petition against water charges in County Hall, ahead of yesterday's national protest.
"It's been a complete debacle. I was never a supporter of Irish Water myself" he said and went on to state "local authorities should have been left in charge. If there were charges to be brought in, it's they should be doing it. The big problem with water is under investment. There is a lot of talk that it was badly managed. It wasn't properly invested by the state in the good times and you can see it here. If there was funding come in, there are the programmes there to do it. You put Cobh on the map that's for sure" he added.
Both Sinn Fein councillors, Pat Buckley of Midleton and Kieran McCarthy of Cobh, told the councillor the signatures collected over 2 weeks, were a representation of the anti-water campaign right across East Cork.
The Fianna Fail councillor is due to meet with the Detroit Water Brigade later today (Thursday 11 December) when they travel from Dublin to Cobh to meet with protesters there.
In the US the group assist families who are at risk of having their water turned off. Currently over 275,000 people in Detroit are at risk of having their water disconnected. The group advocates for an income based water affordable plan in the U.S.
On Wednesday they attended the national demonstration outside the Dail to show their solidarity with the campaign against Irish Water.
Karen Doyle spokesperson for Cobh Says No to Water told the East Cork Journal " we are calling on our elected representatives to get behind us. The Anti-water campaign has brought the community together like never before. It's really democracy in action we are seeing. I think with all the demonstrations and everything, we have the government and local government rattled more than anything else."
Councillor Coleman has promised to pass the petition onto the Environment minister Alan Kelly while conveying the depth of feeling of those in County Cork against water charges.