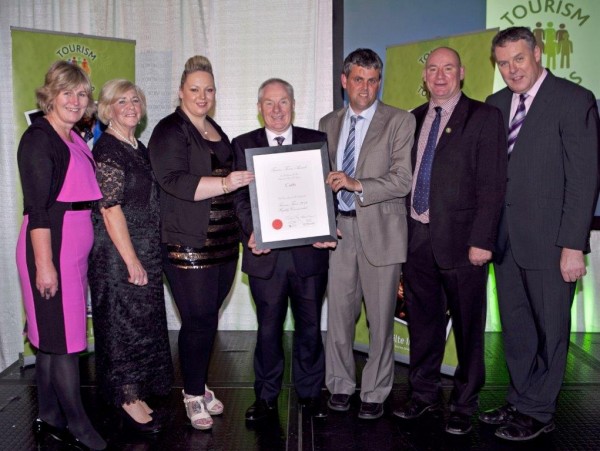 Cobh has been recognised as a major tourist attraction at an award ceremony in Dublin honouring the leading lights of the country's tourist industry.
The harbour town was unveiled as the 4th largest tourist destination last Thursday (27 November) by Minister for Tourism Michael Ring at the Failte Ireland, Tourism Towns Awards.
Cobh town received a certificate of merit acknowledging, their impressive performance in reaching out to visitors and creating the best possible tourism experience.
A panel of independent assessors, as well as a team of 'secret shoppers', visited the Island to measure its tourism performance and the level of welcome to visitors.
The judging panel cited the East Cork town for its sense of vibrancy and local pride.
"There is no doubt if you love and are interested in the history and the sea it's the place to be.
There is a sense of vibrancy due to the respect and pride of the historical impact on the area and its people and the legacy it left behind.
It's obvious that there is a huge local effort to promote Cobh as a worthwhile tourist location. The locals and staff alike were all very friendly and helpful when approached, eager to assist and offer information.
Overall a very worthwhile visit not to be missed, even on a wet day" they said.
Sinn Fein Councillor Kieran McCarthy told the East Cork Journal " the judging panel reflected on our Maritime history. I have no doubt that if we focus on this and enhance what we already have further, we will be in the running for the top award in another year or two."
Chairman of Cobh Tidy Towns Hendrick Verwey stated "out of the short list of 10 towns 6 were small towns. Cobh is standing shoulder to shoulder with Kilkenny and Killarney so we have to be happy with that. We await the judicators report to see where we can improve, to become the premier tourist destination in the south coast. "
Kinsale was crowned the 2014 National Large Tourism Town, with Westport taking the National Small Tourism Town title.