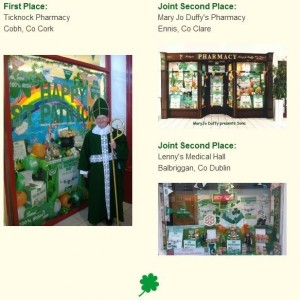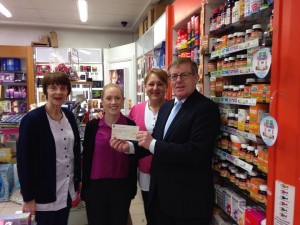 Ticknock Pharmacy in Supervalu Shopping Centre Cobh has just been awarded first prize in a national St Patricks Day window display competition.
The contest was run nationally by Sona the health food supplement company.
Lorraine Smith of Sona Supplements told www.Frontpagenews.ie that the Cobh business beat off tough competition with over 500 entrants.
Joyce Murphy Manager of Ticknock Pharmacy said their display this year was very much a community effort. "It was a big attraction for the whole of Cobh and we were proud to beat off stiff competition from other competitors with input from all the staff of Ticknock pharmacy and some of our younger customers"
Pharmacy employee Sandra Bardsley Co-Ordinated the staff members with local teenager Sarah Dobbyn painting the rainbow in the background. Local celebrity Joe Devlin endorsed the display as St Patrick.
All staff involved will share in the prize fund of €1000.