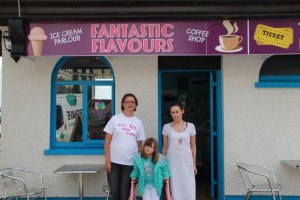 A charity event planned to raise funds for 'Katie's dream to walk' hung in the balance on Sunday 10 August. The event organised by Fantastic Flavours at their Cobh branch was threatened to be cancelled after vandals broke into the premises in the town centre between 5:00am-5:15am in the early hours of Sunday morning causing thousands of euro worth of damage.
The store remained closed for at least half-a-day and the money that would have supported Katie's Dream to Walk was diminished with a meagre €300 raised.
Store manager Bryn Curtis told the Frontpagenews.ie that "on a normal day we would expect to raise about €1,000. The raiders got away with some money but did quite a lot of damage. Gardai have pulled CCTV footage from businesses in the area."
Bryan added "we just want to do our bit to help raise the desperately needed funds for Katie."
Katie Byrne was born 12 weeks premature in November 2006 after a very complicated pregnancy.
Katie suffers from Spastic Deplegic Cerebral Palsy. As a result she cannot stand or walk independently. Katie has been selected for ground breaking surgery which could help her walk unaided.
It costs €60,000 to have this procedure carried out . The family are just €14,500 off their target which needs to be raised by September.
Antoinette Mc Loughlin Katie's mother told the East Cork Journal "we have had to cancel Katie's surgery on 3 occasions already due to lack of funds. Katie's operation is scheduled for the 23 October in the US. Payment for the operation needs to be made one month before the surgery. We are just in sight of the finish line and this happens. I feel very guilty taking the money from Fantastic Flavours after what has happened. I can't keep thinking that this has happened because of our family. Recently we have been receiving threatening letters telling us to leave Cobh."
The Frintpagenews.ie contacted Cobh Garda Station who were unable to comment.