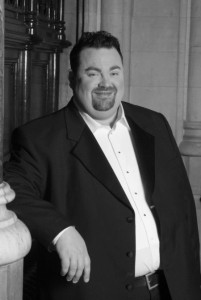 Stopping a Taxi in the middle of Cobh and jumping in can be an uplifting experience for some. Darragh McGann a Cobh native, the singing taxi driver refrains from the usual chat about the weather or politics to treat his fares to songs from Roger Whittaker, Brendan Boyer, Matt Monroe and many more.
The singing taxi driver says his passion for singing comes from his father's love of music. "My father had an extensive collection of records. When he died I would listen to them to remind me of him"
The 41-year-old says it's this love of music that has helped him through dark periods of his life. Being bullied at school over his weight and losing his dad at 6 years of age all took its toll. "Initially my singing helped block out the bullying and helped me to be closer to my father at the same time. "
In his late teens when Darragh was at another low point in his life music came to his aid yet again.
The day before his 20th birthday Darragh had thoughts of suicide and had planned to take his life the following day. "It was a request on local radio for me that persuaded me to choose life. Matt Monroe's the impossible dream. I seemed to really focus on the words. They gave me that drive to achieve my dreams"
For the past 21 years Darragh has continued to follow that dream.
The East Cork taxi driver come singer, admitted that if it wasn't for the standing ovation and the favourable comments from the judges at Britains Got Talent he probably would have called it a day. Following his appearance on the show Darragh has recorded an EP with the Prague Philharmonic Orchestra and hopes to have a single out soon.
McGann who once performed as a stand in for Hollywood actor Marlon Brando recently headlined at Dublin Pride with X-Factors Melanie McCabe to an audience of over 10,000.