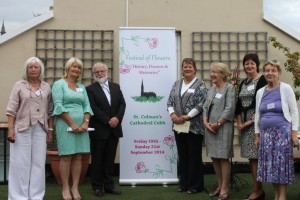 A floral spectacle will be held in St. Coleman's Cathedral Cobh next month.
St Coleman's Cathedral and Cobh Flower Club have joined forces to organise a flower festival at the Cathedral on Friday 19 to Sunday 21 September.
Planning is well underway for the event which is being held to help raise €500,000 to restore the Cathedrals Telford Organ.
Organist Adrian Gebruers KSG told those who attended the recent launch that "the Cathedrals Telford Organ was one of very few in its original state.
Englishman William Telford (1809-1885), who was much influenced by the great French organ-builder Cavaillé-Coll founded his company in Dublin in 1830. The organ was installed in the Cathedral in 1905." Mr Gebruers added "the organ is made up of many parts that deteriorate over time like canvas. In order to restore the instrument to its former glory it needs to be completely broken down and surveyed. This is a highly specialised job. We have a responsibility to pass this onto the next generation in the condition it was given to us. Unless its restored right now it's gone. This flower festival is an added spur to the fundraising. It is my hope that before I go this organ work will be complete."
The theme of the festival will be history, memories and dreams and will have displays both inside and outside the Cathedral.
Staging for the event will take place on Friday 19 September between 11:00am and 5:00pm. The opening ceremony will take place at 7:00pm that evening.
On Saturday 20 September the show will be open to the public from 11:00am – 5:00pm
On Sunday 21 September it will open to the public from 1:30pm – 5:00pm.
The parish centre will be open throughout the weekend selling teas, coffee, cakes and plants.