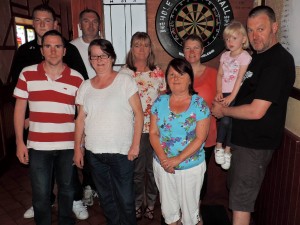 Catherine Jordan a Midleton resident is doing her bit to help raise over €600,000 for the children's leukaemia association.
The organisation is in desperate need of funds as they work towards building a new leukaemia ward in Cork University Hospital, where the group will be moving in the near future.
In 1995 when Catherine's son John was diagnosed with leukaemia at the age of 4 she feared she was going to lose him forever.
"We realised there was something up when John was going to crèche he would come home tired. He started to look pale.  I took him to see the doctor who sent me straight to the Mercy Hospital, she knew what was wrong but didn't want to say. Bloods were taken and the results were back within 2 hours. The two years following his diagnosis were not easy. I was six months pregnant at the time and was literally living in the Mercy Hospital in Cork. Both myself and my husband Tony would do shift work. I would stay with John and then his father would come and let me go home. We came very close to losing him. We are very grateful of the work the doctors, nurses and the leukaemia association do. When your child is diagnosed with leukaemia your whole world falls apart, you need every support you can get and we got that through the children's leukaemia association."
John is now in remission and mum Catherine wants to help other young children. On Saturday 9th August at 4pm a Darts Pro-am will take place in the Hole In The Wall pub in Midleton.
Anyone wishing to take part should contact Donal Sinclair on 085-1144784 or Catherine on 086-0602574.
All monies will go directly to the children's leukaemia association. Entry fee is €10.