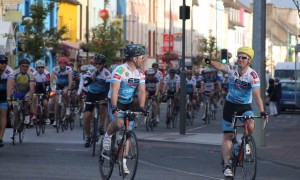 At first both Suzanne Colbert and Susan Buckley didn't realize what they had signed up for when their husbands told them about Endurance Challenge 2068.
Endurance challenge 2068 was going to be a testing time for both couples. Training for the event took two years to complete with both men training daily and holding down a job. At the weekends they would do their distance training for 5 to 6 hours.
Suzanne Colbert and Susan Buckley are two women who also held down jobs and had two young children to care for. With all this they still made time to support their husbands and keep them motivated to reach their goals.
Both Susan and Suzanne told the Frontpagenews.ie that managing the time they had with their partners was the key to their success.
According to Suzanne Colbert "Christmas 2013 was probably the hardest as training really stepped up from here. James is the kind of guy who rarely hit a wall and rarely bothered me with his training issues. James always pushes the boat. We both made the most of the time we had. "
Susan Buckley has a 4 month old child. Working as an accountant and being a new mother she also had to juggle life supporting her husband Sean. Susan says " Family life was hard but managing your time, keeping everything on track when Sean came home helped. Sean always prioritised everything when it came to myself and the baby. Sean would fit in a rest week and ploughed on from there. Not seeing him at the weekends became the norm. "
When both men started this challenge their lives were somewhat of a mirror of each other.
Sean Buckley had lost his father to cancer. Very soon Sean had to take over the reins of his fathers  company and hit the ground running. James Colbert was also a young man venturing into business while being a new dad.
Both women were adamant that  full stop the foot is now going down.
Anyone wishing to make a donation to breakthrough cancer can still do so through www.endurancechallenge.ie