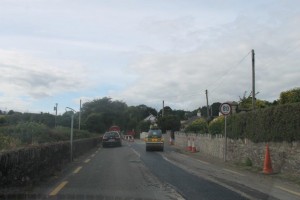 In my post dated the 13 August I reported that the road coming into Cloyne from Ballinacurra/ Midleton was in a state of disrepair. Local residents had been calling for a number of years to have their road fixed but to no avail.
Heavy trucks carrying machinery and increased traffic had all taken its toll on the road which is the main road for those heading to Ballycotton and Shanagarry.
The water main running through the centre of the road had begun to sink causing a trench.
The frontpagenews.ie spoke with David Clarke senior executive engineer roads Cork County Council who advised at the time work would be carried out with permanent reinstatement of the water trench in the coming weeks.
The Frontpagenews.ie can confirm that works have now been completed from the Ballinacurra side to the Community centre.
Negotiations between Cork County Council and Irish Water are currently ongoing to facilitate the full reinstatement of the road from the Community Centre to Cloyne Cross.