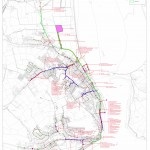 Councillors arriving to The September meeting of theEast Cork Municipal in Youghal were left waiting for representatives of Irish Water and Atkins Engineering Consultants.
The councillors had set aside time in their monthly meeting to hear an interim report on the progress of the Youghal main drainage scheme.
No representative from both Irish Water & Atkins Engineering consultants attended the meeting.
According to a spokesperson for the East Cork Municipality " no formal request was made as both parties had expressed an interest in presenting to the delegation. An item was added to the agenda to facilitate the interim report but there was no representation made."
Fidelma Lucey of Atkins Engineer Consulting told the frontpagenews.ie that " the reason no representation was made at Mondays meeting was due to a mix up on annual leave dates. We can confirm a member of Atkins will be present at the next Municipal meeting on 6th October."
Irish Water stated that their "representative was detained on site due to an emergency situation so was unable to attend." In a written statement they said " Irish Water and the contractors in question are scheduled to attend the October meeting of the East Cork Municipality and make a presentation of the Youghal Main Drainage Scheme. In relation to updates on the scheme, the contract for the Networks upgrades is proceeding as planned and Irish Water anticipates completion of the work by the first half of 2015″
Currently works are being carried out in 4 separate areas of Youghal. Works on Windmill Hill have temporarily stopped while the road closure is in place on Raheen Road. A second crew have commenced work at Raheen Park working towards Sarsfield Terrace in an effort to progress the works. The road between Spa Hill and Raheen Park will remain closed until 20 September due to concerns for ongoing pedestrian safety. Works on Lower Cork Hill are almost finished with permanent reinstatement of the road left to be completed .
Two crews are currently working on the Upper Cork Hill. The construction of the new green park pumping station has commenced. Excavation has been completed to foundation level. It's expected pouring of concrete will commence here shortly.
Work from the Mall to Catherine Street to construct a new rising main will commence shortly.
The construction of a new gravity sewer and rising main are also continuing at south Abbey.