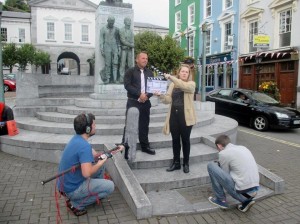 East Cork historian John Flynn was recently filmed for part of a documentary on the sinking of the Lusitania. The Cobh native will be broadcast on the RTE TV programme Nation Wide towards the end of the year to promote the documentary on the 100th anniversary of the sinking of the liner.
The Lusitania on route from New York to Liverpool was torpedoed by German U-boat U-20 on Friday 7 May 1915. The wreck lies 11 miles off the old head of Kinsale and for many weeks following the incident bodies washed up on the shores of Cobh. Many are buried in a mass grave in the Old Church Cemetery.
Recently John brought a film crew around the town as he recalled the history of Cork Harbour and the effects of the sinking of the Lusitania on the area. First time footage of the Old Bridewell Prison which was discovered under St. Colman's Cathedral in 1992 was also shot. The filming ended at the Lusitania Monument in the town centre where its hoped to formally recognise those who perished on board in the coming year.