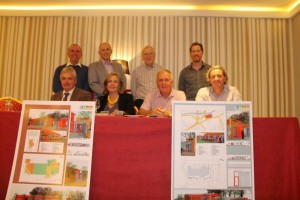 A hard working committee of 7 people hope to make a community centre the heart of Midleton once again. My Place Ltd. have been the driving force behind efforts to renovate the old Fire Station in the town.
Works on the outside of the building are expected to be completed in 4 weeks reflecting 30% of the project build. This ambitious development once completed will provide a safe, warm and welcoming environment for all.
The main users of the centre will be youth and voluntary groups, consisting of a dedicated youth space in the form of a youth cafe / drop in centre incorporating a cafe, recreation area, music room and arts space.
The centre will also house a general purpose hall open to the wider community.
In order to finalise the project €100,000 needs to be raised in the coming months. Recently a group of 26 civic minded people met at the Midleton Park Hotel to brain storm ideas to help boost the campaign to help raise funds to complete the facility.
According to a committee spokes person " the building and project are secure. We knew funding was behind so we agreed a term loan of €100,000. We would prefer not to draw this down if we could. "
My Place is looking for sponsorship from local businesses and organisations. Several fundraising events like a charity golf classic, gala dinner and fashion show are hoped to be carried out over the coming months.
It is expected to have the new amenity available to the people of Midleton by February 2015.