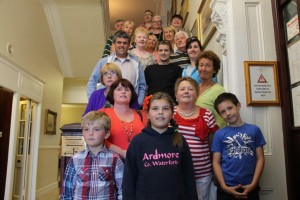 It was a double celebration for Cobh town at Dublin's Helix theatre recently.
Not only did the town receive a silver medal for the third year in a row in the National Tidy Towns Competition, they were also named as one of the short listed Top Ten Tourism towns. The Tourism Town of Ireland 2014 will be announced towards the end of the year.
Hendrick Verwey Chairman of Cobh Tidy Towns told the Frontpagenews.ie "we are just biting at gold when it comes to the Tidy Towns competition. I'd like to thank everyone who has played a part in Cobh's success especially our dedicated volunteers who give freely of their time all year around. If Cobh Municipality can prioritise the issue of derelict and neglected buildings in our area, this would go a long way in helping us to achieve our ultimate goal of Gold."
Currently there are 5 buildings on the Cobh Municipality derelict list.
At a meeting of the borough on 8 July Labour councillor Cathal Rasmussen presented a list of 25 buildings he believed should be added to those 5.
It was agreed at this meeting that the Town Executive would carry out a survey on the list the councillor provided.
Gold went to Ballina this year.
The national winner of the Tidy Towns Awards 2014 was Kilkenny.