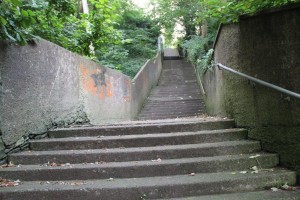 Ongoing antisocial behaviour has led to Cobh Labour Councillor Cathal Rasmussen tabling a motion to extinguish the public right of way at the Burma Steps.
The steps are used as a short cut by many residents traversing between the Bishops Road and Lake Road.
Councillor Rasmussen told a recent meeting of Cobh Municipality  that in recent times the right of way has become the scene of extensive antisocial behaviour.
"The Burma Steps are synonymous with drinking and antisocial behaviour. In the last 3 weeks the guards rang me to come up and take a look. There were about 100 boys and girls out there just before they went back to school. Somebody is going to be killed there or badly hurt. Steps are in a bad condition. I know the council do a great job in cleaning it but it was covered in broken glass. When the walls were done in town last year there was a hording up with restricted access there. It was removed in the morning to leave people to go to work and in the evening allowing them to return home. The issue stopped and as the place opened up it started again."
Rena Ronayne who was deputising for the town Engineer Padraigh Lynch told the meeting "the Burma Steps is a public right of way. In order to restrict access the council would have to extinguish the right of way, which means carrying out a six week public consultation."
Councillor Sinead Sheppard stated "I am all for closing the area or restricting it. When we closed it last year to carry out essential works we were inundated by letters requesting when it will be re-opened."
Councillor Kieran McCarthy who seconded the motion told the meeting " I raised this particular issue at the joint policing committee before the old Council disbanded. I suggested we have restricted access at night time and I had the head eaten off me by everyone. I was totally out of order making such a suggestion. Then we opted for cameras and all that sort of business but we are probably going to have to go back to the guards."
Ger O'Hora Senior Executive Engineer Cork County Council, told the meeting "public lighting encourages them to be up there. To put up cameras you are talking about €30,000 + "
Councillors decided to revisit the issue at the next Municipal meeting after reviewing the minutes of the joint policing committee.