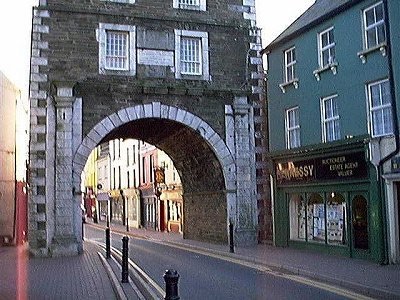 Paddy Bullman of the People's convention saw red when his posters advertising an anti-water demonstration were removed from Youghal town centre in early December.
Mr. Bullman was so incensed by the move he wrote to the East Cork Municipality requesting an audience.
Correspondence was sent to a number of sitting representatives naming specific staff members.
Councillor Mary Linehan-Foley told the executive buroughs January sitting "Youghal Town Council in particular all municipal candidates had a gentleman's agreement with the Tidy Towns for over 15 years, that the Town Centre would be kept clear of all posters because it was not known when the tidy towns would be judged. It looks bad if they are littered." A point Mr. Bullman should have been aware of having run in the local elections as an Independent candidate.
The Municipalities Youghal branch say its actions are in keeping with current litter laws.
According to one council official present at the meeting "there is no intention to issue fines. The signs were removed under section 19 of the litter act, where they are erected without the consent of the council. The criteria for erecting any posters are very strict. Every sign was removed not only Mr. Bullman's" they said.
Mr. Bullman's request to address the boroughs next session generated plenty of discussion and debate in the chamber. Councillors felt there maybe some legal impediment by having Mr. Bullman attend.
Municipal Chairman Noel Collins interjected "if litigation follows the deputation, I have given him a platform to make a case and that's out of order."
Cork County council senior executive Maurice Manning told the members "clearly Mr. Bullman anticipates a debate when he comes in that's not the way a deputation works. A deputation are an individual or a group coming in, they make their case. Members are entitled to ask questions of the deputation. There is no debate or discussion. The discussion takes place once the deputation has left."
Fine Gael Councillor Michael Hegarty told his fellow representatives " I would be concerned that there would be legal issues pending or any legal impediments that we as a municipal district have in carrying out our functions in an appropriate and correct manner. I feel the arrangement for deputations is a bit too loose. We ourselves are probably open to be challenged if we are having too much of a free hand."
Sinn Fein Councillor Pat Buckley added "because of names being mentioned and that it may be taken further by the gardai, we would be left open to some sort of conflict, therefore Mr. Bullman must be written to ."
It's believed a letter has now been issued to Mr. Bullman explaining the Municipalities terms of reference. The letter is also believed state that no be debated will be entered into. A further discussion on Mr. Bullman's response will be debated at the February meeting with a view to receiving a deputation in March.