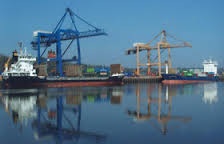 A multimillion euro redevelopment plan for the Port of Cork could get the green light despite the lack of rail access and better quality roads. If planning is granted it would see the transfer of cargo handling activities from Tivoli and the City Quays to Ringaskiddy.
Independent councillor Claire Cullinane was the only sitting Representative from Cobh to vote for a Fianna Fáil motion requesting a report by Cork County Council top brass to be rejected.
The motion was tabled by Fianna Fáil councillor Seamus McGrath at a recent meeting of Cork County Council urging members to reject a report compiled by the councils chief executive Tim Lucey.
Councillor McGrath informed the meeting "the plan was premature as the Dunkettle interchange and the N28 Cork Ringaskiddy road would need to be upgraded first,otherwise extra HGV traffic generated by the project would lead to safety issues." In 2008 a larger version of the plan was turned down by An Bord Pleanala due to the lack of rail access and better quality roads.
Councillors defeated the Fianna Fáil motion by 30 votes to 18 believing the project could go ahead on a phased basis.
Phase one will comprise of the construction of a multi-purpose berth that will be capable of accommodating vessels carrying a range of different cargoes including containers, unaccompanied Roll On Roll Off freight and general cargoes; an additional 200 meter long berth which will be used for Port container traffic; a new container yard and marshalling area.
Phase two will be carried out at Ringaskiddy West. This will see a 180 meter extension added  to the existing Deepwater Bert; dredging works to facilitate navigational access to the new facilities.
Phase three: At Paddy's Point, a new public slipway will be constructed, new planting and landscaping will be provided in a new public amenity area and new pedestrian circulation routes will be introduced.
Phase four will see improvements to the existing road entrance at Ringaskiddy Deepwater Terminal and internal road upgrades to improve connectivity to the remainder of the port complex and facilitate future connection to a new upgraded N28 both East and West of Ringaskiddy village.
The Mayor requested that a vote be taken on the proposal, which resulted as follows:
18 For:
Councillors: McGrath, D'Alton, O'Donnabhain, Desmond, Murphy-O'Mahony, Ryan, Conway, P. O'Sullivan, Cullinane, A. O'Sullivan, O'Keeffe, O'Flynn, Doyle, Fitzgerald, M.Collins, Carroll, C. O'Sullivan, P.G. Murphy.
Against:
Councillors: O'Laoghaire, Forde, J.A. Collins, M. Murphy, Harris, R. McCarthy, Coleman, Lombard, K. Murphy, J. O'Donovan, Creed, O'Grady, Lucey, K. McCarthy, Sheppard, Barry, Rassmussen, N. Collins, Buckley, M. Hegarty, S. McCarthy, Linehan-Foley, Dawson, J. Murphy, O'Shea, G. Murphy, Mullane, N. O'Donovan, Hayes, Hurley