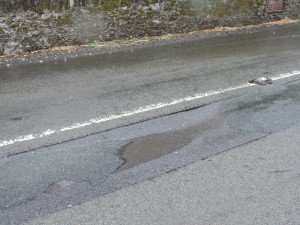 If you are driving to Cloyne, recently you would have noticed that the road coming into Cloyne from the Ballinacurra/ Midleton road is in a poor state of disrepair.
Tommy Hartnett Chairman of the Cloyne Community Council says he is constantly been asked by frustrated citizens  when will their road be fixed.  "We are getting nowhere when  we spoke to Midleton Town Council in 2012 we were promised the work would be completed in 2013 or maybe 2014 at a push.  We spoke with Midleton Municipality in the last two months to be told the road won't be done this year."
Heavy trucks carrying machinery and increased traffic  have taken its toll on the road which is a main road for those heading to Ballycotton and Shanagarry.    The water mains are running through the centre of the road which are now starting to collapse.
Mr Hartnett added "We are paying even more taxes now in the form of property tax and water charges. East Cork gets no money for roads. Drive over the bridge in Youghal and you won't even see a pot hole."
David Clarke Senior Executive Engineer Cork Roads Cork County Council told the Frontpagenews.ie that " Cork County Council acting as an agent for Irish Water will carry out permanent reinstatement of the water main trench in the coming weeks from the Balinacurra side to the community centre. "
Mr Clarke added " the road from the community centre to Cloyne Cross is in need of complete replacement. Negotiations are currently under way between Irish Water and Cork County Council for the full reinstatement of that road. Unfortunately we can not guarantee when this section of the road will be completed."