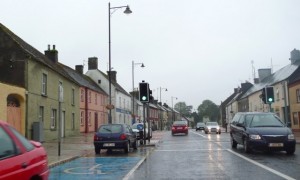 Castlemartyr Community Council have asked the NRA and RSA to carry out a technical assessment of the junction and traffic lights located at Castlemartyr bridge.
According to residents and road users, the traffic lights approaching the Castlemartyr bridge from the Mogeely and Ladysbridge side are changing too quickly and therefore creating a large backlog of traffic.
Castlemartyr Community Council stated that "queues of traffic backing up as far as Loughaderra can be seen at 3:00PM in the afternoon."
Various concerns have been raised at Castlemartyr Community Council meetings. The spokesperson told the frontpagenews.ie that "the Community Council have not taken a decision either way on what is the best course of action. At the moment we are waiting for the opinion of the experts before formulating a view. "
Castlemartyr Community Council would like to hear what members of the public have to say considering the traffic lights, any opinions or suggestions are welcome. Please contact Sean on 087-6091800, Michelle on 087-9242921 or Ultan on 087-9651717.