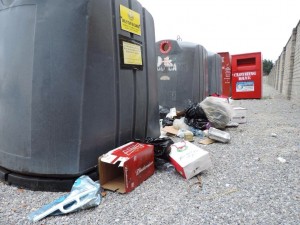 Midleton tidy towns say they seem to be fighting a losing battle when it comes to illegally dumped rubbish.
Illegal dumping has become a serious problem in some areas of the town, tackling it is proving difficult.
According to a spokes person for Midleton Tidy Towns "illegal dumping has been going on for quite some time. We have a good core of volunteers that work to keep the area clean. The problem is that people who illegally dump know their rubbish will be disposed of. Usually the area is full again the following week. Illegal dumping shows the lack of civic spirit and pride in the area. "
In the last few days the Frontpagenews.ie took these photos of the Recycling unit near Market Green.
All the recycling units were empty, the area however was covered with domestic waste hidden towards the back of the facility.
If CCTV was erected in the area it might just help to identify those who are carrying out the illegal dumping.
Fine Gael councillor Michael Hegarty told the Frontpagenews.ie that he will be raising the issue at the next Council Meeting. The Councillor will request CCTV cameras to be erected in order to catch the culprits.
At the time of going to print no one from Market Green was available to comment.