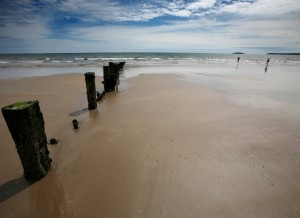 Cork County Council are to continue to monitor the front beach in Youghal.
The decision comes after sample results taken in September show elevated levels of E-coli.
Sharon Corcoran director of services at the Environment Directorate told the Southern Committee of Cork County Council meeting recently, the poor readings were a result of heavy rain and flooding along with agricultural pressures on the black water river, and raw sewage being pumped into the sea water.
Independent Councillor Mary Linehan-Foley directing her concerns to the Mrs Corcoran said "this would be detrimental to Youghal as a tourist town. Is there nothing we can do to rectify the situation?"
The Environment Director told the councillor "subject to advice from the EPA (Environmental Protection Agency) the action that we are anticipating is at least restrictions and possibly closure we don't know yet. We are awaiting full confirmation from the EPA as to what action we have to take."
She continued "The construction of the sewage treatment plant will go a long way to rectifying this problem over the next two years. When there is a significant weather event the levels of e-coli rise and we will be working closely with the EPA to try and minimise the impact of this. We do know there will be some impact but we don't know the impact of this."
It is expect that an official decision will be made in spring 2015 to what action needs to be taken.