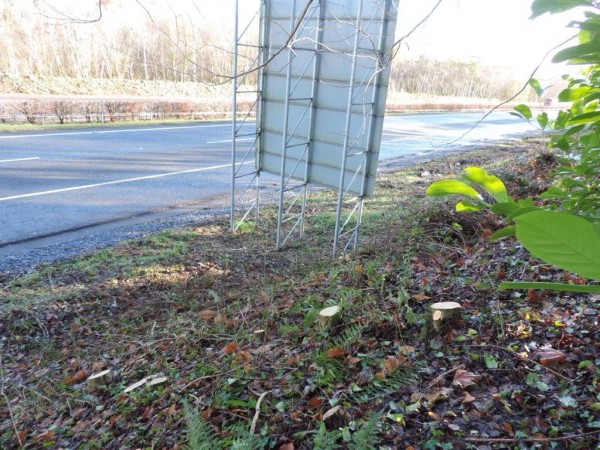 Madge Fogarty is one of a number of residents who own property close to the M8 Cork Dublin motor way in Glanmire.
Recently residents along the route have complained of increased noise levels following the removal of 24 year old trees which acted as a sound barrier.
Some sleep with ear plugs but often that's not enough, there's the constant noise from traffic going almost 24 hours. "We might get 10 minutes of silence at 2am" Madge told the East Cork Journal.
Trucks and lorries are using the road now more at night as they work towards meeting stringent deadlines.
When this section of the M8 was opened in 2006 the Irish Road Haulage Association advised its members not to use the toll road, as they considered it to be too expensive.
Traffic volumes through Watergrass Hill increased by 6,000 vehicles of which 1,100 were lorries. By the end of 2008 increasing numbers of vehicles were opting to pay the toll.
The NRA predict 20858 vehicles will have used the M8 in 2014 between junctions 18 Glanmire and junction 19 Watergrass hill, 8.3% of those will be Heavy Goods Vehicles.
What Madge Fogarty and her fellow residents want is the reintroduction of the sound barrier.
At the December meeting of the Cobh  Municipality the Glanmire resident was told 'because the motorway is part of the national roads network it's governed by the NRA.'
Fogarty told councillors "my emails to the NRA are falling on deaf ears, they don't want to admit there is a problem. We are not living. We are just existing, our quality of life has changed."
Senior Engineer Cork County Council Ger O'Hora told Mrs. Fogarty "this section of road doesn't come under our jurisdiction. I suggest you write a letter to the NRA outlining your concerns."
Both the World Health Organisation and the EU recognise that noise can drastically affect the quality of life. High levels can cause heart disease, cognitive problems and tinnitus. Prolonged exposure to low levels of noise can trigger hypertension and disrupt sleep.
In 2002 the EU introduced the Environmental Noise Directive which was written into law here in 2006. The directive was designed to regulate 'unwanted or harmful outdoor sound created by human activities, including noise emitted by means of transport, road traffic, rail traffic, and from sites of industrial activity.'
An NRA spokesperson told the East Cork Journal " We have been in contact with Mrs Fogarty through email. Our site engineer went to her house, however no one was in at the time. The trees were removed to form a hazard and safe clear zone which is a legal requirement. The trees were too close to the road side which was in breach of current laws."
A clear zone is an unobstructed, traversable roadside area designed to enable a driver to stop safely or regain control of a vehicle that has accidentally left the roadway. Clear zones are an effective strategy for prevention and mitigation of roadway departure crashes.
when asked if the NRA would be reinstating a new sound barrier system for the residents affected by the tree removal, the NRA stated no provision is currently being considered.