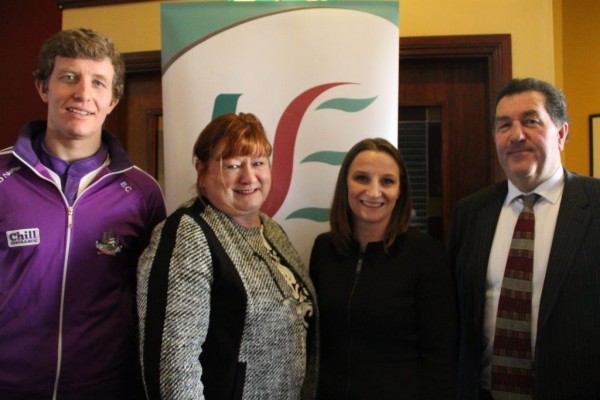 Youghal GAA and Youghal Family Centre have joined forces with the HSE Primary Care Psychology service in an effort to beat stress.
Life's ups and downs, financial pressures, relationship break ups are all natural stresses.
Some people will overcome these stresses through help from peers. Other people don't as they feel they don't want to be a burden.
When these stresses are prolonged this is when there's an issue.
The joint initiative entitled Cork Beats Stress a 6 week programme is designed to help people protect themselves by pointing out the signs and symptoms of stress.
The course will run for 6 consecutive Tuesday mornings from 3 February from 10:15am – 11:45am in Youghal GAA.
Speaking at the launch Dr. Jennifer Hayes, Principal Psychologist, Primary Care Cork North Lee told the East Cork Journal " 1 in 5 people have a significant problem with stress. This course is free and is open to everybody, including non GAA members who are currently experiencing stress or interested in learning how to manage stress better and therefore improve their quality of life".
Last year the Cork Beats Stress initiative was piloted in Midleton GAA and St. Finbarr's GAA in an effort to boost access to comprehensive Primary Health Care through the GAA's healthy Club project.
Dr. Hayes added "Primary Care Health Centres provide services to people on a one to one basis. We find it hard to attract men to the service. All walks of life take part in the GAA. Running this initiative with them has helped us break down barriers and get into the fabric of the community. "
In 2014 a total of 328 people attended the course across both sites.
Senior Cork Hurler Bill Cooper lending his support to the initiative said "GAA is part of every town and village. It's important everybody gets behind this drive to reduce stress levels which will help to reduce depression and will hopefully help to stop suicide in our community."
Ger Motherway president of Youghal GAA added " we have over 500 members in the club. We could see the logic of routing this project through the association. We were interested in the success of the programme run through the Bars and Midleton."
Last September Midleton and St Finbarrs GAA were announced as joint winners of the Health Manager Ireland National Leadership Awards, for their Cork Beats Stress initiavtive.