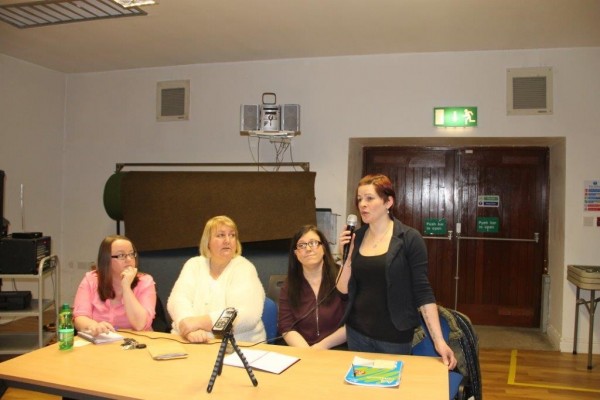 There is an outcry in Youghal after reports that redevelopment of the former Seafield Textiles Premises could fall through.
Last Tuesday (3 February) news broke that 3 objections had been received by An Bord Pleanala to the project.
Last December Cork County Council gave their full backing to the development which would see the construction of 6 single storey units along with a supermarket and a drive through fast food restaurant and car parking for 178 cars at the site.
A public meeting held at Cumann Na Daoine on Tuesday (3 February) attracted large numbers in favour of the venture.
Siobhan Stapleton a mother of 6, one of the event organisers told the meeting " I would describe Youghal as a ghost town stagnating. We need this here. Yes to Youghal, yes to jobs, yes to expansion of business, yes to local development. "
Youghal has been affected most by the economic crisis. Last December 1,530 people were signing on the live register.
A previous application lodged by Seafield Partnership in 2011 which had incorporated the old Youghal carpets building in its plans, was rejected in 2012 by An Bord Pleanala as it felt the expansion was not in keeping with the towns 2009-2015 development plan.
Youghal town council subsequently made changes to the plan in order to allow a medium sized convenience store.
A separate application lodged by German food outlet Aldi for the redevelopment of the Old Youghal Carpets site with the provision of 81 car parking spaces was given the green light by Cork County Council last week (26 January), this is subject to objections which can also be lodged with the planning authority.
A survey conducted in 2013 reported 1 in every 4 people are travelling outside Youghal to Midleton and Dungarvan for their shopping. These areas are booming and Youghal is being left behind.
Siobhan Stapleton told the large gathering in Cumann Na Daoine " no matter what education my kids will have there will be no jobs for them here in Youghal. The sad fact is that they will have to move away. "
In 2009 an Bord Pleanala upheld an appeal against planning permission for Dunnes Stores to develop the former Murray Kitchens site on the Mill Road in Youghal.
The proposal had originally received planning permission from Youghal Town Council, after they rezoned the 4 acre site. The site would have seen the development of a 9,500 sq meter retail space, sports, leisure, medical and health centres.
In a final battle cry to locals to back their fight for the development 'Stop the objections in Youghal' are compiling a list of signatures to attach an observation to the application by Seafield partnership.
Petitions will be available in Sammy Butchers and Amber Garage in The Strand and at Absolute Flowers, Collins Bakery, Old Imperial Hotel and the Sinn Fein Office in the town centre.
Members of the public have until 5:00pm on 16 February to lodge an observation.
An Bord Pleanala are to make a final decision on the plans by the 25 May 2015.