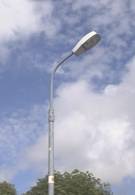 Like most of the country's authorities Cork has had to take a knife to services and staff numbers.
At the November sitting of Cork County Council representatives called on CEO Tim Lucey to re-establish a public lighting capital programme.
Cork County Council hasn't had a public lighting programme for over 5 years. Currently the authority is committed to reducing its Carbon footprint by 33% by 2020.
Councillors told the chief executive that many areas of the county are being left in the dark.
East Cork has seen development over the last number of years which have not benefited from public lighting, linking developments to urban centres.
In Youghal Oak hill & Estuary Estate have been kept in the dark for the past 10 years. Recently independent councillor Mary Linehan-Foley was successful in getting the lights turned on in Ardan Na Mara after 7 years.
In Castlemartyr councillors are fighting for lighting between Bridgetown South and the national school . There is also a lack of public lighting at Upper Scartleigh, Saleen and Lisgoold village. In Cobh town over 46 street lights have been out of operation for the past 12 months.
At Tuesdays sitting Fine Gael Councillor Anthony Barry told county council management "we have a duty of care to residents. Huge levels of funding were paid in these estates . I don't think it's fair that they are travelling in danger to facilities in the village. I think we should maybe look at timing, look at certain areas we leave lights on and put in lights in areas that are badly needed."
Councillor Mary Linehan-Foley said estates with no lights can't see any future "I've been bringing up issues of one council estate in particular in Youghal. These people are paying mortgages, some are paying high rents and everything else. They bought their homes with a view that they could have at least lighting outside their front door."
Councillor Sinead Sheppard stated "not only do we need to provide new lighting, in a lot of places there are lights in Cobh that are not working and haven't been for over a year."
Michael Hegarty added " We should look at, some areas where low level lighting would suffice. We should also be looking at this from a cost effective point of view. In some areas it may be cheaper to actually consider solar panels to light these situations. Our approach should be innovative in so far as we need to get this up and running" he said.
In his response Council CEO Tim Lucey told the representatives " This is a complex issue, we will look at this. The public lighting system is run on tariffs which run from dawn to dusk. The changes to those tariffs require agreement with the commission for energy regulation. Up to 90% of our public lighting systems are not metered but are on a timer. Clearly there are black spots out there. The other issue is funding. Do you fund it through a combination of capital contributions. Development contributions are very limited, or do we try and dip into some of our Municipal district allocations" he said.
Last week Ireland received €22 million for climate change initiatives through Horizon 2020,Europe's largest ever fund for research and innovation. It's expected that Ireland will win €2billion of the €79billon fund over the life of the 7 year programme.
Such an investment could help with discovering innovative ways to deal with our lighting issues.