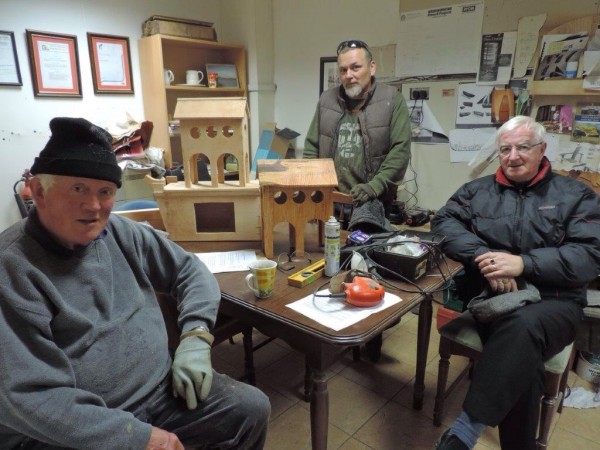 Men's sheds are an international mental health initiative allowing men to share their skills and make new friends, in an effort to tackle issues such as loneliness, social isolation and mental health problems.
Since its foundation in Midleton in 2012 the men's shed has grown in numbers, currently there are 12 full time members as well as regular visitors. The size of the group's current location at the Midleton Enterprise Park means only 5 men can work at a time.
The men's shed one of East Corks most progressive organisations for wellbeing is appealing for help in securing a new building.
The organisations current location in the SECAD premises in the Midleton Enterprise Park is not big enough to cope with the huge demand on its services.
Thomas Danaher the groups spokesperson told the frontpagenews "we only have this premises until December. We need an alternative venue by then."
A spokesperson for SECAD stated " we rented the space where the Men's Shed is currently, as we thought we needed the space while we were working on another project. We soon realised after 2 or 3 months the space was not needed. When we were approached by the Men's shed we gave them use of the premises as a temporary measure. We wrote to the group in June as we are unable to continually facilitate the rent for the unit. The Men's Shed advised us that they would find an alternative property by December. If they need an extra few weeks we can try and accommodate for a few weeks."
Official figures show that in the Midleton and East Cork area, there are almost 1,700 unemployed men.
Independent Councillor Noel Collins told the East Cork Journal "a larger shed in Midleton means that more men can avail of the community service. In an effort to progress the urgent need for a larger building I have sent an appeal letter to state, semi state bodies, Irish rail, Irish distillers SECAD, Cork County Council, Church, School and sporting organisations with a link to Midleton, to give consideration to the appeal on behalf of Midleton Men's shed. I would also urge property owners to consider making a suitable building available" he said.
It's also understood that councillor Collins has requested Cork County Council to convert the now closed Fir agus Mna toilet on Connolly street and hand it over to the Midleton Men's Shed.