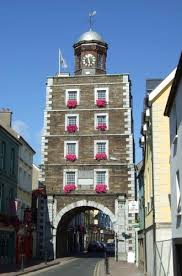 A €228,000 boost from the government for two East Cork communities has been welcomed.
Youghal's Clock tower is to receive a €200,000 grant as part of the governments' capital projects in Irelands Ancient East.
The funding for Youghal's Clock Tower is to help transform the building into a permanent interpretative exhibition that will bring the historical story of the clock tower to life.  The improved experience will also include costumed storytellers presenting and animating 700 years of history, in addition to storyboards and screen imagery supporting the story. An audio-visual companion will enhance the experience for non-native English Speakers.
Adrian Hyde spokesperson for Youghal4All said the funding being made through Failte Ireland's 'New ideas in Ancient Spaces' Capital grant scheme "recognises the product Youghal has to offer as a town."
"Youghal needs more of this sort of investment. Even though €200,000 seems a sizable amount, it will certainly pay for itself overtime" commented Mr Hyde.
€28,000 has been awarded to the Cobh Heritage Centre to complete it's emigration story by adding the West Indies story of Irish servants/slaves as a prequel to the main maritime emigration theme.
The project will also include the addition of a multilingual self-guided audio tour.  The new exhibits in conjunction with the existing storyline and proposed audio tour, would contribute in making the "Queenstown Story" a world class experience and a memorable and educational voyage through Irish history and culture. 
Minister for Transport, Tourism and Sport, Paschal Donohoe TD, along with Minister of State for Tourism and Sport, Michael Ring TD, made the announcements as part of a €1million investment in Ireland's Ancient East. 
Launched in April 'Irelands Ancient East' is a follow up to Bord Failte's very successful 'Wild Atlantic Way'.
The route is aimed at exploiting the South East's rich history dating back over 5,000 years.
Publicised as a "relaxing journey of discovery" the route stretches from the Boyne Valley through Kilkenny's ancient Mile and onto the South East.
The brand is expected to attract over 600,000 visitors here, generating increased revenue of €235 million by 2020.